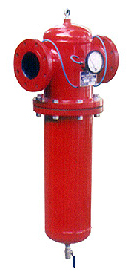 Candle Filter
This comprehensive range of candle filters will remove oil, dirt, odour and water from the compressed air supply, therefore offering complete protection to all equipment installed downstream. It is used in Textile, Food & Beverages, Pharmaceuticals, Automobiles, Spray Paint, Blow Moulding, Power, Instrumentation, Tele Communications, General Engineering.
Activated Carbon Filter
Paras Activated Carbon Filter is used to remove oil & moisture particles from Compressed Air. It contains Activated Carbon granuels which absorb the Oil and Oil vapour from the Compressed Air. Activated Carbon Filter is to be installed after the Air Receiver. If absolutely dust free air is required, an on line Filter should be installed at the outlet of Activated Carbon Filter before application point.